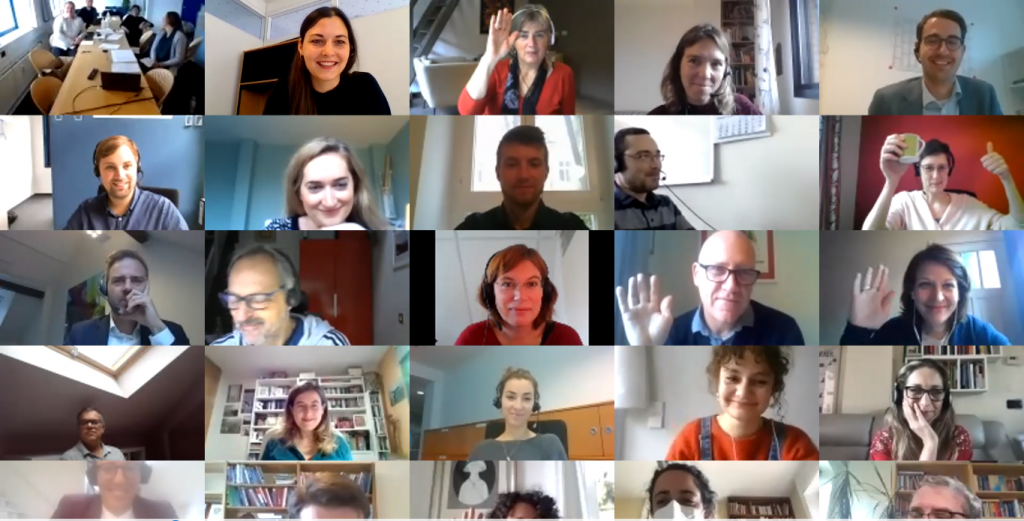 National partners head off together for a good start.
Every journey starts with a first step – our journey towards a fair energy transition is no different: in a training session on October 20th, all project partners met for the first time!
Unfortunately, not in person, of course. But thanks to the internet, national facilitation and policy partners from nine countries as well as the team members of the project management group could come together nonetheless – 37 people in total. On the online meeting's agenda: getting to know each other, and also ensuring that the whole team is well-prepared and on the same page before the upcoming dialogues.
Room to learn, practice and discuss.
During the training session, the partners practiced and discussed specific tasks which they will carry out soon in their respective countries. Highlights included a short input by Stefan Schäfers, director of the King Baudouin Foundation, on the history of the project. Prof. Stefan Bouzarovski from the Manchester Urban Institute gave a presentation on the meaning of the term "energy poverty." He provided insights into the most relevant EU policy and legislative developments expected – and he made clear why it is important for member states and the EU institutions to ensure that the energy transition is fair. Moreover, the training session gave all partners the opportunity to share updates on national energy transition policies and issues in the different countries.
Let's get to work!
After a long day of virtual discussions (or because of it?), everyone was excited to start working on the project. It became most evident that this project is somewhat a matter close to the hearts of all partners: everyone is eager to help one another and to ensure that all countries are able to make the most out of this project. The first step has been taken. The long journey towards a fair energy transition starts with pilot groups in Belgium, Denmark, and Germany.
Now, everyone is prepared to start with their tasks and get a Fair Energy Transition off the ground. We are looking forward to it!